Love Thy Beer is the Brewers Association of Maryland's annual FeBREWary showcase of locally crafted winter ales and lagers! Fans of malt-forward, winter beers can't miss this event.

About Love Thy Beer
The Brewers Association of Maryland will return to the Silver Spring Civic Building for this year's Love Thy Beer tasting event on Friday, February 10, 2023.
This exclusive tasting event showcases a huge collection of winter ales and lagers from two dozen Maryland breweries.
Attendees of Love Thy Beer are invited to sample from dozens of Maryland-made beers, enjoy lite fare, dance to live music and celebrate local craft beer!
Cupid's Curse Pass holders gain early entry (6:00 pm) to this year's event and are invited to enjoy a welcome beer!
*** While there is no dress code for Love Thy Beer, we recommend a "Dressy Casual" ensemble to fit right in.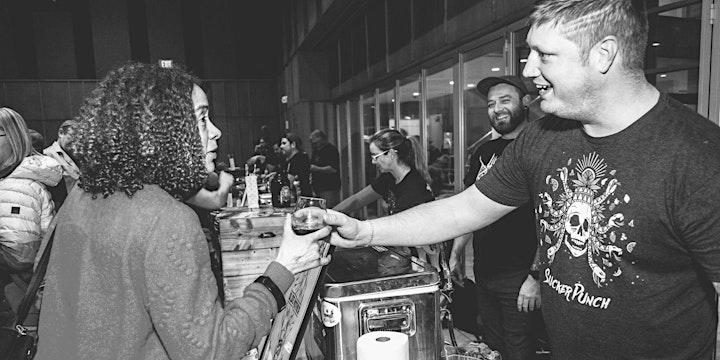 Participating Breweries
This year, two dozen Maryland breweries will bring two beers – one of them will be a winter seasonal! Taste the beers your favorite brewery is bringing and visit a few new breweries to learn about their beers. We've got some great breweries attending this year's Love Thy Beer, check back as our list of featured breweries continues to grow!
Featuring
1623 Brewing Co. • 7 Locks Brewing • Antietam Brewery • Astro Lab Brewing • Black Flag Brewing Co. • Brewer's Alley • Brewery Fire • Brookeville Beer Farm • Crooked Crab Brewing Company • Denizens Brewing Co. • Flying Dog Brewery • Gypsy Brewing Co. • Forward Brewing • Liquidity Aleworks • Lone Oak Farm Brewing Co. • Mad Science Brewing Company • Monocacy Brewing Co. • Mully's Brewery • Pub Dog Brewing Co. • Red Shedman Brewery • Rockwell Brewery • Sapwood Cellars • Silver Branch Brewing • Streetcar 82 Brewing Co. • Steinhardt Brewing Co. • True Respite Brewing Co. • Two Story Chimney Cider • Waredaca Brewing Co. • … AND MORE!
What To Expect At Love Thy Beer
Love Thy Beer isn't your average craft beer event. The beers featured at this event are typically limited releases and focus on recipes that are best enjoyed seasonally. Attendance at this event is incredibly limited and attendees are given the opportunity to chat with the experts behind Maryland beer in an intimate setting – all while tasting incredible seasonal ales and lagers and meeting some of our industry's greatest influencers.
For this year's event, we'll be featuring an excellent local band – Justin Trawick and the Common Good. Trawick and the band have performed for the Kingman Island Bluegrass Festival, Appaloosa Roots Music Festival, Floyd Yoga Jam, TedxEast in NYC at the City Winery, and TedxPennsylvaniaAvenue in DC at the Newseum. Additionally, Trawick has opened for over 30 national acts, including Suzanne Vega, Wyclef Jean, Brett Dennen, Blues Traveler, Enter The Haggis, Bob Schneider, and Edwin McCain, and shared bills with Dr. Dogg and The Avett Brothers. As the founder of the nationally touring show "The 9 Songwriter Series" and co-founder of "The Circus Life Podcast" with guests such as Kevin Eubanks, Chris Thomas King, Ernie Halter, Yarn, and Snuffy Walden, Trawick has built a brand that extends far beyond his home base in DC.

Vote For The 2023 Cupid's Curse Winner
Breweries attending Love Thy Beer will feature their unique 2023 "Cupid's Curse" entries. These beers are brewed with this event and FeBREWary in mind!
Love Thy Beer attendees are invited to VOTE for their favorite Cupid's Curse entry! Each attendee will receive tokens to use to The winning brewery will take home an awesome trophy and earns bragging rights for the next year.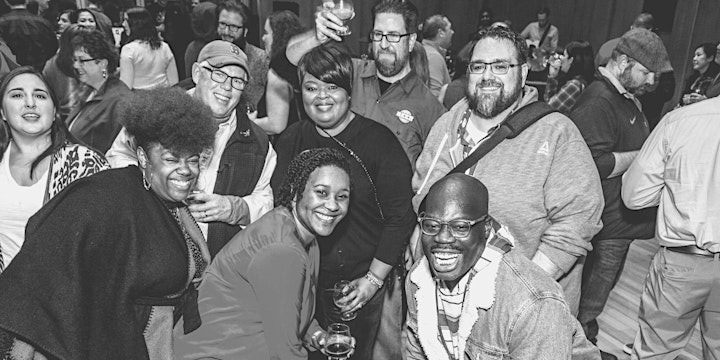 Event Support
We'd like to thank our partners for their support of Love Thy Beer and Maryland's growing beer industry.
Brewers Association of Maryland Disclosure and Waiver
The Brewers Association of Maryland invites you to experience Maryland beer responsibly. To ensure the safety and enjoyment of our attendees, we reserve the right to refuse service of alcohol or excuse attendees from our events, at any time. 
COVID- 19 Policy
By attending the Love Thy Beer and/or purchasing tasting passes, you are agreeing to the Brewers Association of Maryland's COVID-19 Safety Acknowledgment.
Refund Policy
Tickets to this event are non-refundable. In the event that you are unable to attend due to illness, please note that your tickets may be transferred to another attendee. Names on the tickets do not need to match the attendee.
Photography & Videography Implied Release
The Brewers Association of Maryland (BAM) documents each of its events with digital photography, still photography, audio, and video for promotional and archival use. 
By entering this Brewers Association of Maryland event, you consent to interview(s), photography, audio recording, video recording and its/their release, publication, exhibition, or reproduction to be used for news, webcasts, promotions, telecasts, advertising, inclusion on websites, social media, or any other purpose by BAM. The Brewers Association of Maryland, its officers, employees, and each and all persons involved are released from any liability connected with the taking, recording, digitizing, or publication and use of interviews, photographs, computer images, video and/or sound recordings.
By entering this Brewers Association of Maryland event, you waive all rights you may have to any claims for payment or royalties in connection with any use, exhibition, streaming, webcasting, televising, or other publication of these materials, regardless of the purpose or sponsoring of such use, exhibiting, broadcasting, webcasting, or other publication irrespective of whether a fee for admission or sponsorship is charged. You also waive any right to inspect or approve any photo, video, or audio recording taken by BAM or the person or entity designated to do so by BAM.
Brewers Association of Maryland Event Code of Conduct
All event participants are expected to conduct themselves with integrity, courtesy and respect for others. This applies to all attendees, sponsors, vendors, volunteers and staff. Participants violating these rules will be asked to leave at the sole discretion of Grow & Fortify or our event partners.